Disinfectant Medical Ultrasonic Conductive Gel
Brand: Rainhome
Product origin: Guangzhou, China
Delivery time: 5 days
Supply capacity: 100000
Medical Ultrasound Gel
Class II and disinfectant
Specification: 10g/12g/15g/20g/30g/100g/250g/bag
Package: Non-toxic Aluminum Foil Bag
Application: when used on intact skin, apply appropriate amount to the sound head or inspection part
Download:
Disinfectant Medical Ultrasonic Conductive Gel
Medical Ultrasound Gel
Class II and disinfectant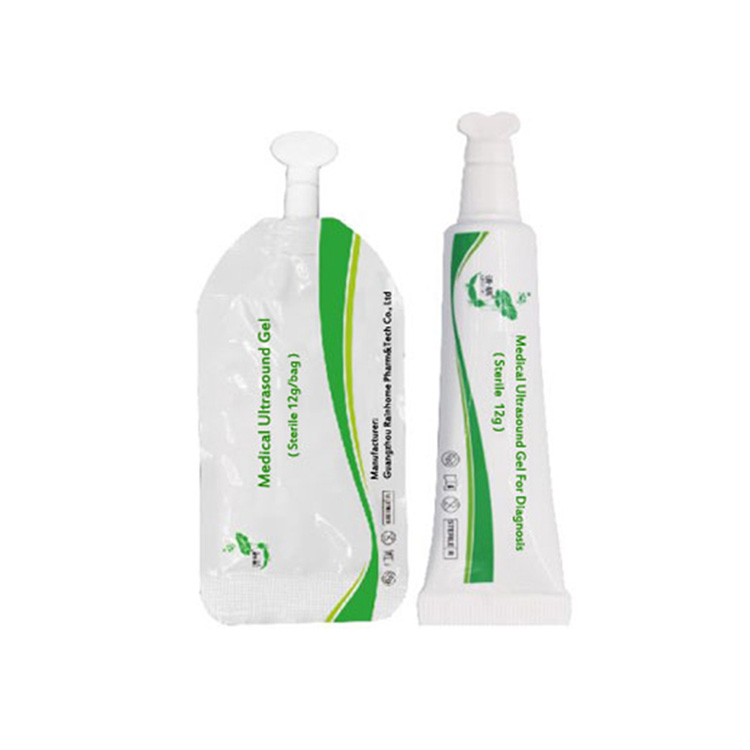 Specification: 10g/12g/15g/20g/30g/100g/250g/bag
Package: Non-toxic Aluminum Foil Bag
Application: when used on intact skin, apply appropriate amount to the sound head or inspection part
Product introduction Medical color doppler ultrasound elastography ultrasound gel (Class II) is a new formulation with carbomer (acrylic cross-linked resin) as the main component, whose main features are biocompatibility with living tissues, biocompatibility and bio-elimination degradation and bio-elimination.
Product Features
- Excellent quality: good sound transmission function and coupling function for clearer ultrasonic images.
- Strong sterilization function: with synchronous, fast and high efficiency. Sterilization rate of Staphylococcus aureus, Escherichia coli and Candida albicans are above 90%.
- Safe and reliable: no allergy, no stimulation, no intradermal reaction, no cytotoxicity to human body; no corrosion and no swelling of ultrasonic probe.
- Wide range of application: applicable to any available coupling agent for ultrasound examination.
Usage and dosage
- For trans-intact skin application, apply an appropriate amount to the acoustic head or examination area.
- For trans-cavernous mucosal use, apply an appropriate amount to a special condom or condom.
shape and properties:
Colorless or light (yellowish) transparent gel, no or only a few bubbles, no insoluble foreign matter.
Specification and Model.
- Sterilized type: 12g, 20g
- Aseptic type: 12g, 20g
Package type.
- Tube packaging
- Soft bag
Manufacturer: Guangzhou Rainhome Pharm&Tech Co., Ltd
Address: On 2nd & 5th Floor, Building 6, No.10 Yongsheng Road, Huangpu District, Guangzhou City of Guangdong Province, China
Email: ds03@rhkj.com.cn