Chitosan Multi Repair Serum Moisturizer Emollient Cream
Brand: Rainhome
Product origin: Guangzhou, China
Delivery time: 5 days
Supply capacity: 10000pcs/5days
Compound peptide Acne Essence water(180ml)
Compound peptide Acne cream(30g)
Complex peptide Acne serum(30ml)
Complex peptide Acne Mask (5pcs set)
Download:
Chitosan Multi Repair Serum Moisturizer Emollient Cream
Item Name: Complex Peptide Acne Cream/Mask/Serum/Essence Water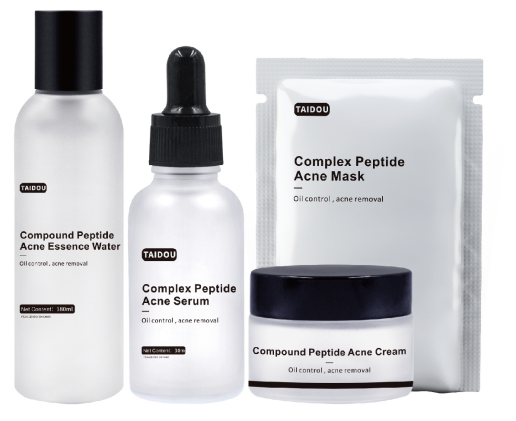 Compound peptide Acne Essence water(180ml)
Compound peptide Acne cream(30g)
Complex peptide Acne serum(30ml)
Complex peptide Acne Mask (5pcs set)
Product ingredients:
1, Acety Hexaptide-8 ( skin barrier enhancement )
2, Myostatin ( skin whitening and barrier repair)
3, Oligopeptide ( high penetration, fast absorption )
Product advantages:
1, Compound peptide composition, anti-acne peptide to enhance skin resistance, reduce sebum secretion and increase skin moisturization, inhibit inflammator factors to get rid of acne and enhance skin resistance.
2, Soften the stratum corneum, improve the micro-ecological environment of the skin, adjust the skin vitality and health status.
3, Multiple plant extracts to create a healthy skin environment.
4, Repair damaged cells, promote cell metabolism, promote normal skin growth, so that the skin is crystal clear and tender.
Manufacturer: Guangzhou Rainhome Pharm & Tech Co.,Ltd
Address: On 2nd and 5th Floor, Building 6, No.10 Yongsheng Road, Huangpu District, Guangzhou city of Guangdong Province, China, 511356