Diabetic Ulcer Chitosan Wound Dressing Set
Brand: Rainhome
Product origin: Guangzhou
Delivery time: 2 days
Supply capacity: 100000
Medical Chitosan Wound Dressing
Specification: 6*10cm
Type: Non-adhesive & Sterile
Composition: the non-adhesive type of chitosan dressing consists of a chitosan dressing cushion.
Application: For use in general surgical wound. only for superficial wounds in the superficial dermis and above.
For single use only
Shelf life: 2 years
Download:
Diabetic Ulcer Chitosan Wound Dressing Set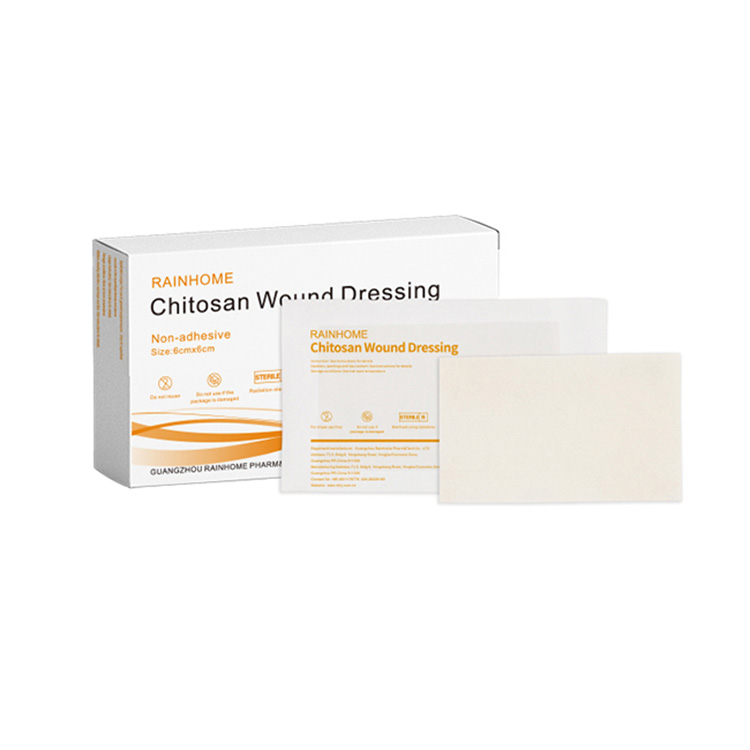 【Item Name】Chitosan Wound Dressing
Specification: 6*10cm
Type: Non-adhesive & Sterile
Composition: the non-adhesive type of chitosan dressing consists of a chitosan dressing cushion.
Application: For use in general surgical wound. only for superficial wounds in the superficial dermis and above.
For single use only
Shelf life: 2 years
Scope of application:
Instrument classification: Class III
Scope of Application: used for pressure ulcers, Graft & donor site, arterial & diabetic ulcers, leg ulcers, postoperative surgical wounds, burns, cavity wounds.
Applicable departments: Orthopedics, burns, anorectal, endocrinology, hand surgery, general surgery, wound clinic, interventional department, pediatrics, geriatrics, etc.
Manufacturer: Guangzhou Rainhome Pharm&Tech Co., Ltd