Saline Nasal Spray For Allergies
Brand: Rainhome
Product origin: Guangzhou
Delivery time: 5days
Supply capacity: 100000
Saline Nasal Spray
Specification: 15ml/30ml/60ml/bottle/box
Non-sterile and Sterile
CE/ISO EN13485/ Medical Device Production License
Indications: Chronic sinusitis, Allergic rhinitis, post-nasal endoscopic treatment.
Application: ENT, pediatrics, neonatology, maternal and child health, respiratory, infections diseases, oncology ( radiotheraply)., others ( ICU general anesthesia surgery etc. )
Download:
Saline Nasal Spray For Allergies
Saline Nasal Spray
Medical cleaning spray Nose care Physiological Natural seawater Nasal Cleaner saline nasal spray for children & adults
Specification: 15ml/30ml/60ml/bottle/box
Non-sterile and Sterile
CE/ISO EN13485/ Medical Device Production License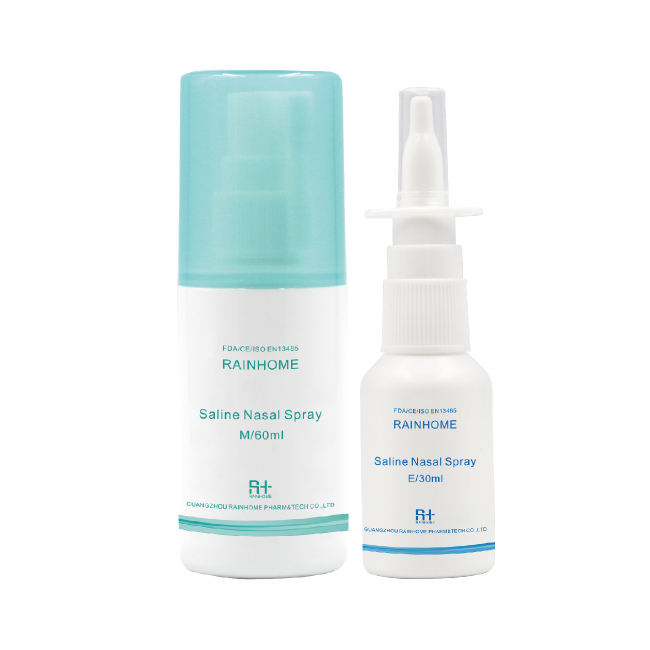 Indications: Chronic sinusitis, Allergic rhinitis, post-nasal endoscopic treatment.
Mechanism of action.
1. Improves mucosal cilia function
Improves mucosal cilia function, improves nasal mucus cilia transport function and promotes recovery of nasal mucosa physiological function.
2. Reduce inflammatory inflammatory factors
It moistens the nasal cavity, physically removes the secretions covering the mucous membrane and improves the nasal environment.
3. Reduces mucosal Membrane edema
It effectively reduces mucosal edema, decreases inflammatory cell infiltration and cytokine concentration in interstitial fluid, and decreases inflammatory response of nasal mucosa.
4. Physical or mechanical Clearing effect
Through nasal rinsing, harmful substances or pathogens can be removed from the mucous membranes to achieve preventive health care and stabilize the condition.
Application: ENT, pediatrics, neonatology, maternal and child health, respiratory, infections diseases, oncology ( radiotheraply)., others ( ICU general anesthesia surgery etc. )

Usage:
(1) open the dust cover
(2) adjust the nozzle to the right angle
(3) gently put the nozzle into the nasal cavity at the right angle
(4) wipe the nozzle cover the dust enclosure
1, Gently push the nozzle into the nostril, lightly press the nozzle and the nursing fluid is sprayed out.
2, To wait for excess water to flow out, exhale once or twice through the nose; if the nasal passage is blocked, press the nozzle continuously for a few seconds.
3, Repeat the above action to clean the other nostril.
4, Wipe the nozzle dry after each use and wait for use.
5, Use daily for an unlimited time, 5-10 sprays each time, 2-6 times a day, you can also adjust the amount of use according to the situation.
Manufacturer: Guangzhou Rainhome Pharm & Tech Co., Ltd
Address: On 2nd & 5th Floor, Building 6, No.10 Yongsheng Road, Huangpu District, Guangzhou city, Guangdong Province, China