Rainhome NPWT system for Omphalocele
2022-03-23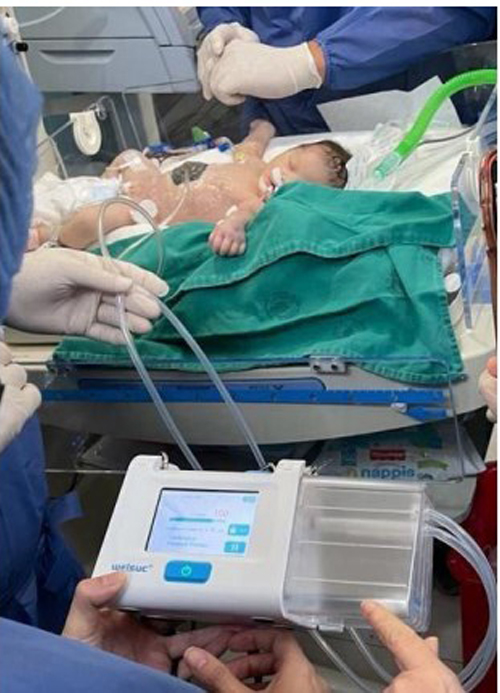 Rainhome Negative Pressure Wound Therapy System
We are the hi-tech manufacturer specializing in design, development, production and sales of medical device such as NPWT machine and medical wound dressing. And our products have been exported to different place of the world and they are deeply welcomed by our customers around the world. Many customers have put our products to use in hospitals for wound care, such as Rainhome NPWT system used for newborn omphalocele.
Omphalocele is an abdominal wall defect, on which the herniated viscera are covered by peritoneum , amnios and Wharton jelly. The eviscerated organs can be: small or large intestine , liver and stomach. The cord is always involved in the herniated sac. The sac varies in content according to the defect size, the biggest ones contain most of the liver. In the 1940´s NPWT was first used to treat complex and difficult to heal wounds, nonetheless its use in pediatric population is fairly recent .

The goal of using NPWT is to provide a quick, simple and effective method to reduce the eviscerated content and enlarge the visceral continent. It dehydrates and accelerates the scarification of the amnios , allowing a definitive closure in lesser time. The closure must occur in the appropriate moment , if premature it can cause an abrupt increase in abdominal pressure which could lead to respiratory insufficiency and abdominal compartment syndrome. Based on the fact that the abdominal cavity is not capable of containing all the eviscerated organs , this may cause fatal consequences on patients with omphalocele.
NEGATIVE PRESSURE WOUND THERAPY SYSTEM
All patients were treated with NPWT welsuc®GUANGZHOU RAINHOME PHARM Y TECH CO. LTD CHINA. This system is composed by: 1) Negative pressure device, with pressure ranging from 50-225 mmHg 2) 450 ml Recipient 3) Adhesive sheets 4) Suction cup and tubes 5) Absorbent sponges with various diameters: 10x7x3cm, 15x10x3cm, 20x10x3cm. They were used according to the defect size.
The goal of this work is to present our experience using NPWT on a series of cases of neonates with an abdominal wall defect consistent with omphalocele. NPWT has proven to be an effective and safe alternative for omphalocele management. It can be used on very low weight neonates, without the risk of amnios rupture even if they are under mechanical ventilation.
Manufacturer: Guangzhou Rainhome Pharm&Tech Co., Ltd
Address: On 2nd & 5th Floor, Building 6, No.10 Yongsheng Road, Huangpu District, Guangzhou City of Guangdong Province, China
Email: ds03@rhkj.com.cn